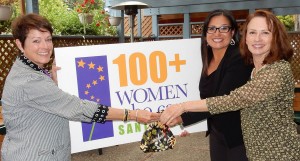 When 100 people come together to donate $100 each, we raise $10,000 – profoundly impacting nonprofits in our community.
Members nominate local nonprofits. Become a member now.
3 organizations are selected at random to be considered. They have 5 minutes to tell the group about their cause and how the funds will be used and answer any questions.
The group votes and everyone donates $100 to the winning organization. You can donate by check or online.
A few simple rules:
We each donate $100 per meeting (That comes out to just over $1 a day each year).
Members of the giving circle who are present and agree to donate to the winning organization may nominate and present.
We all agree to donate to the winning organization. Of course, you are more than welcome to donate to the other two organizations who presented if you would like to support them as well.
No national nonprofits will be considered, but local branches of national nonprofits are eligible for consideration. The purpose is for 100% of the contribution to stay in Santa Cruz County.
The organization must agree NOT to use the names for future solicitations, nor give the information out to the public.
A year after being selected by the group, nonprofits can re-submit their names for consideration.
To nominate a nonprofit for consideration, complete a Nomination Form. You must be at the meeting, and be a member, to put a name in the hat and speak about the organization.