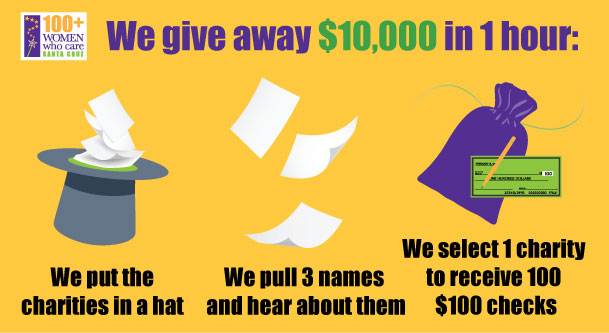 We meet for one hour, four times a year, and each member brings a check for $100.
Every member can nominate local charities, non-profits, or worthy causes.
Members who come to the meeting can put the name of the charity they want to speak about into the hat.
Three names are drawn at random at each meeting.
A member makes a 5-minute presentation about each cause.
We all vote on which cause to support.
The top vote-getting charity then receives all the checks, made out to them on the spot!
On each of four nights during the year, these 100 Women Who Care give up to $10,000 to a local charity, non-profit, or worthy cause, right here in the Santa Cruz County community. It's fast, simple, and amazingly effective. We invite you to attend any time as a guest to see how it works and decide if the group is right for you.
A few simple rules:
We each donate $100 per meeting (That comes out to just over $1 a day each year).
Each of the three charities selected from the hat will be given 5 minutes to make a presentation at the meeting. 

This presentation must be made by a member of the 100 Women Who Care

, who may or may not be a member of the organization.
If you are unable to attend any given meeting during the year, please give your check to a member to deliver on your behalf, or mail your $100 check made out to the selected charity to: Diane Lamotte, 604 Middlefield Drive, Aptos CA 95003.
By ballot, the group will vote, and the majority rules. Even if you don't care for the choice, you still must donate. All checks go to one charity.
No national charities will be considered, however, local branches of national charities are eligible for consideration. The purpose is for 100% of the contribution to stay in Santa Cruz County.
Only three charities will be presented at each meeting.
The organization must agree NOT to use the names for future solicitations, nor give the information out to the public.
A year after being selected by the group, charities can re-submit their names for consideration.
To join 100 Women Who Care Santa Cruz, complete a Membership Form and return it via mail, email, or bring it to the next meeting. To nominate a charity for consideration, complete a Nomination Form and return it via mail or email at least two days before the next meeting. You must be at the meeting, and be a member, to put a name in the hat and speak about the organization.