Mark your calendars for the last meeting in 2022 of 100 Women Who Care:
Wednesday,  December 7 from 6:30-7:30 at the MAH
News from our September 7 Meeting:
And the winner is…Safe Families for Children!
Safe Families for Children is a family preservation movement with the mission of creating a world where children are safe and families transformed through radically compassionate communities.  Safe Families steps in with supportive, loving relationship that pulls parents out of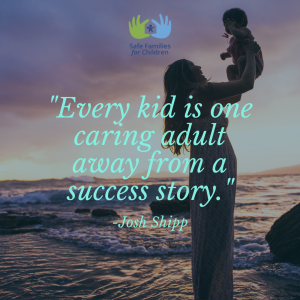 isolation, helps reduce child abuse and neglect, and ultimately keeps families together, reducing the need for foster care.
If you want to donate electronically, please visit and join our group: Grapevine 100 Women Who Care Santa Cruz.
---
The Year in Review from Grapevine:
See the impact of your participation in 100 Women Who Care here:
---
Collective action ~ Empowering community.
This simple statement is the essence of 100+ Women Who Care.
It is a group of women who gather 4 times per year to make a donation of $100 each to a local nonprofit organization. When these individual gifts are combined, they are amplified and become a powerful force for doing good work in our community.
Our Santa Cruz 100+ Women Who Care giving circle has already donated more than $261,000 to provide for those in greatest need in Santa Cruz County. We hope you will join us at our next meeting to see how easy and fun it is!
100 Women Who Care is for you if:
You don't have time

 in your busy life to volunteer but have been wanting to help those in need
You can commit to one hour every three months
You want 100% of your donations to go directly to a local nonprofit
You want to leverage your

$100 donation

 to become a 

part of a larger amount of money by joining together with other women.

You would like to meet other women philanthropists in Santa Cruz
You are looking to volunteer or join a board but are unsure which nonprofit would be a good fit. Every meeting we will feature 3 nonprofits and highlight the work of several others.  Many are just getting started and your support would make a huge impact.
Join Us!
Become a member now. Come to the meeting and be prepared to donate $100.00. Anyone who is ready to donate gets to vote for the selected nonprofit.
Are you involved with a nonprofit?
If you know of a nonprofit you would like the giving circle to consider, complete a Nomination Form.
You must be a member and attend the meeting to put a name in the hat and be prepared to speak about the organization. The organization must have 501(c)3 status.
Upcoming 2022 Meetings:
We meet four times a year in March, June, September and December at the Museum of Art and History (MAH)'s Garden Room, located at 705 Front Street, Santa Cruz.  Come down at 5:30 and grab a bite to eat and a beverage at Abbott Square, then head to the MAH's Garden Room at 6:30 for our one hour meeting. Mark your calendars for our 2021 meetings:
Wednesday meetings:
You can donate by check or online:
Online:
Donate  on Grapevine, an online platform that supports giving circles. Join 100 Women Who Care Santa Cruz. You can elect to donate one time or quarterly. At the end of the meeting month, we will send all the money collected to the nonprofit that was selected. You will receive a receipt from Grapevine, not directly from the nonprofit, for your files.
Please Note: Grapevine charges 2.2% +$.30 for credit card processing, plus you have the option to provide a tip to Grapevine for their services. So your donation will cost a little more online.
By check:
You can always donate by check. Please make the check out directly to the nonprofit that is selected that month.
If you were unable to donate at the meeting, you can always mail your $100 check, made out to the selected nonprofit, to: Stacy McMillan, 443 Baker St., Santa Cruz, CA, 95062.