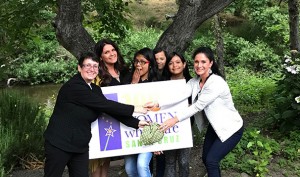 Who are 100 Women Who Care?
100 Women Who Care was started in November of 2006 by Karen Dunigan of Jackson, Michigan, as a brilliantly simple way to raise money efficiently and quickly for local charities. Her group of 100 women, at their first one-hour meeting, each wrote a check for $100 directly to the charity, raising $10,000 to buy 300 new baby cribs for an organization in their city. Since then, they have grown to over 200 members and Women Who Care chapters are forming all over North America. These groups collectively have donated more than a million dollars to locally based organizations.
We're just one of many many chapters all over the world. The best place to go for tips and ideas is the "home" of all chapters — the 100 Who Care Alliance https://www.100whocarealliance.org/ 
Our Santa Cruz giving circle
Sandy Skees brought the idea home to Santa Cruz the fall of 2009 after a visit with her mother, who belongs to a chapter in Ohio. She, along with Mary Talpas, Kirsti Scott, and Diane Lamotte, organized, expanded and inspired the Santa Cruz chapter of 100 Women Who Care for more than 10 years.
Now, with the "pandemic pause" that has forced everyone to take a break, they have decided to pass the leadership on to a new group of women.
The New Leaders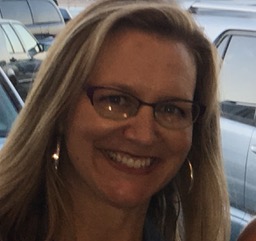 Laura Ferguson is delighted to help 100 Women Who Care Santa Cruz continue to grow. She is excited to help bring local women together for a fun and efficient way to give back to our community. Born and raised in Santa Cruz County, she married and raised two children here as well. As an elementary school teacher turned financial advisor, she has always focused on how to help those around her and is eager to use her skills to support and inspire local organizations.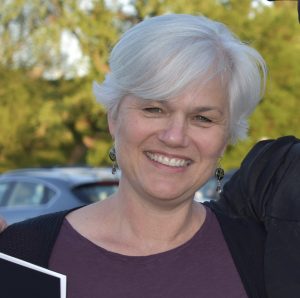 Sue Grasso is excited to join the leadership of 100 Women Who Care Santa Cruz after becoming a member five years ago. She loves the circle's mission of supporting local non-profits and building community. Sue has worked in educational administration in Santa Cruz County for more than 12 years and is currently employed at the Institute for Social Transformation at UC Santa Cruz, a social science research center on campus. She and her husband Chris have raised three sons here, and she can't imagine a better place to live or a better organization to support.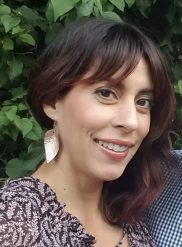 Athena Hurd is a local HR consultant for Paychex. She has spent the last decade raising two school-aged boys while working with small businesses on the Central Coast. Athena has volunteered with Gemma, Autism Family Network, St. Francis Catholic Kitchen and Soroptimist International of Capitola.  She believes in women and our innate ability to support each other while navigating the vital role of wife and mother. She is married to Sean Hurd and lives in Watsonville. Athena is excited to learn more about the fabulous nonprofits in the area and help raise money for our community.
Stacy McMillan is a delusional optimist who is committed to social justice and loves 100 Women Who Care's efficient and fun format. She works for Vyaire Medical selling respiratory consumables, and has volunteered for Hospice of Santa Cruz and served on the Board of Directors for the Pajaro Valley Chamber of Commerce. She is married to Matt and has a daughter and a son, but as an empty nester, she has devoted herself to her Schnorkie Mollie and her white German Shepherd Sophie.
With thanks to our founders: